Nov 26 by Max Monday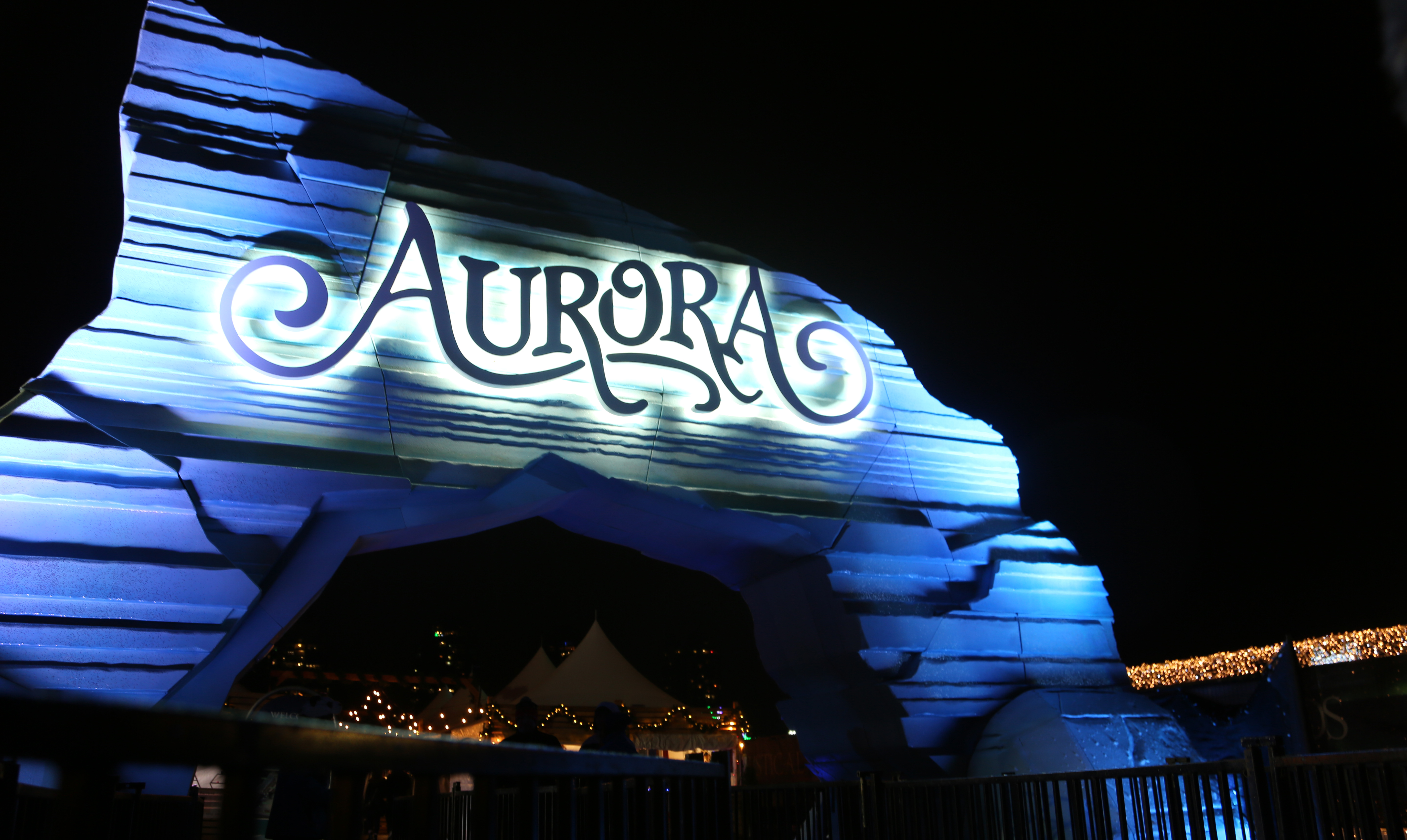 (Entrance to the Aurora Festival)
The older I get, the more I learn that I am not a fan of most holidays. I'm not a super huge fan of big parties and flashy nights out like New Year's Eve, and my hatred for uncomfortable costumes make Halloween cringey for me. The exception to this rule is that I do love partaking in some, not all, of the traditions revolving around Christmas. I'm not one for receiving gifts or braving the hectic shopping malls to find a good deal on Black Friday/Boxing Day, but I feel a certain warmth in my heart during a snowy skate on a frozen lake.
My boyfriend, Matt, joins me in this excitement: an avid cook, he's already planning out what he is going to make for our holiday get-together in a few weeks. I'm currently counting down the days until my toleratingly festive roommate will let Matt and I put up decorations around the house. We even have a costume for our cat, Cynthia (pictures to be featured in a future blog). There are so many different traditions that we can revel in before December 25th rolls around, but as a pair of hard-working adults, we don't get very much time to go out and do all of the holiday niceties that come across our minds. That's why we were excited to hear about the Aurora Winter Festival, a new attraction coming to Vancouver until the end of December.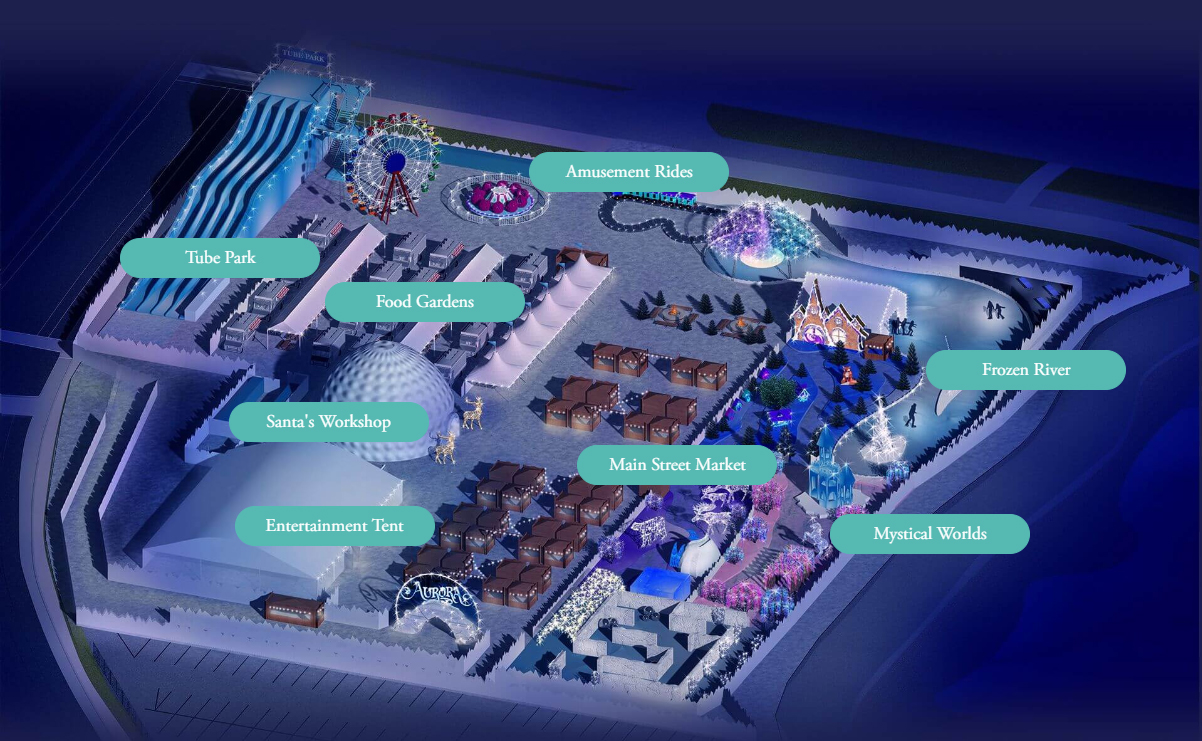 (Map of the Festival Grounds)

The Aurora Festival is an all-encompassing set of holiday attractions: they boast a holiday market to purchase unique gifts, an impressive trail of Christmas light displays, a "frozen river" upon which to skate, a couple of amusement rides, and of course, an enclosed Santa's Workshop where you can get photos. The Festival is set up downtown, just a short walk from Science World, so it's easy access to people who live in Metro Vancouver (unlike more secluded holiday spots like the Capilano Bridge lights). What a treat, right? Matt and I were eager to get all of our traditions done in one go, so we bundled up and headed out to the Festival.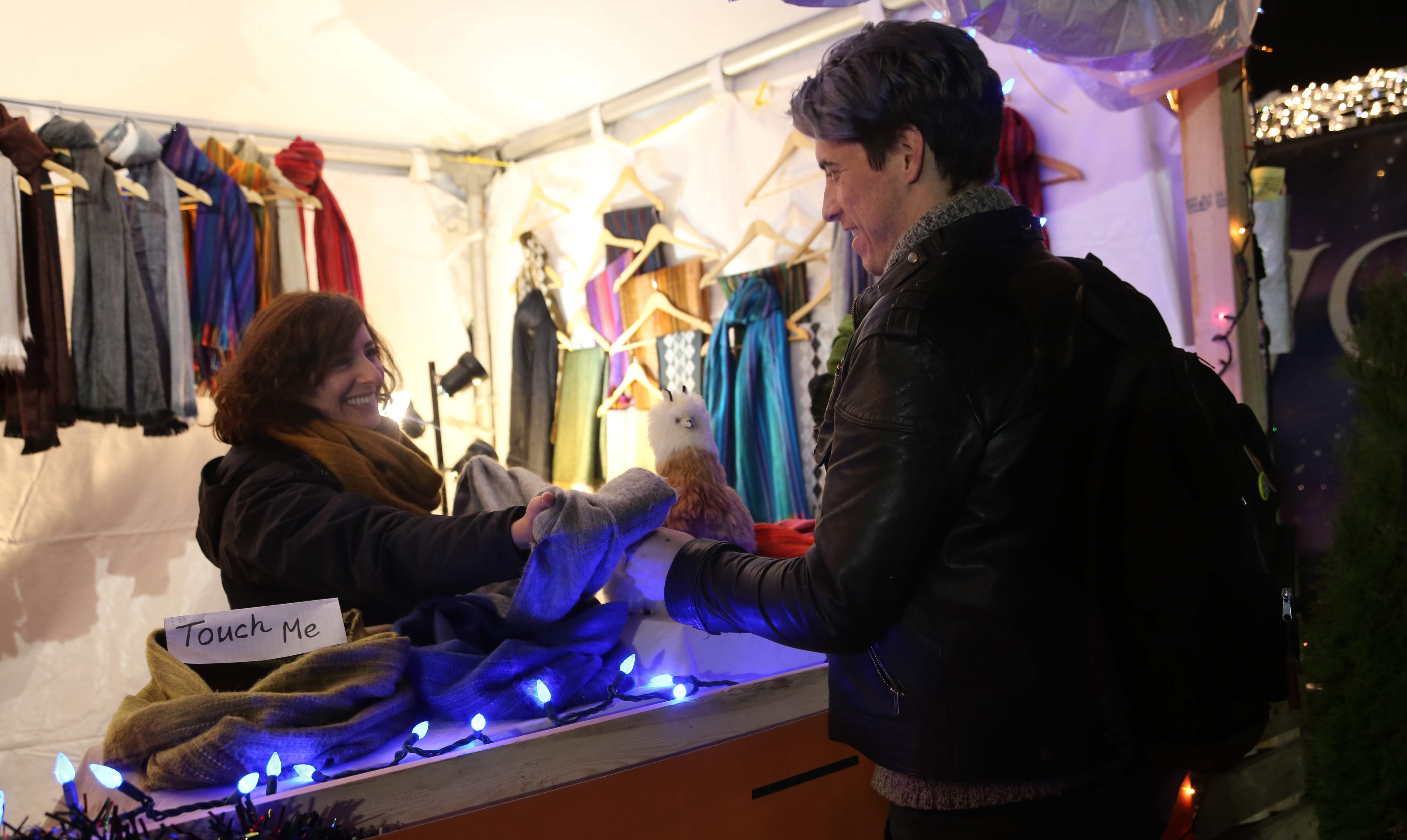 (Matt purchasing a scarf from one of the Market's local artisans)

So, being that this is the Festival's first year in Vancouver (and because we attended the Festival on the first weekend), it was quiet enough for us to explore the premises with enough room to move around. When you enter the premises, you need to walk through the marketplace in order to get to any attractions. Matt immediately spied a shop selling alpaca scarves, and bought one for his friend. We stopped at a couple more shops along the way and made a few purchases – all of the vendors were local artisans, which is awesome for people (like me) who are looking to keep their money in the community this holiday season. We passed by an entertainment tent, which was equipped with a bar and was presenting holiday movies. I was tempted to go in and see the original Frosty the Snowman for the first time (don't judge me), but Matt reminded me we have so much to do and only so much time.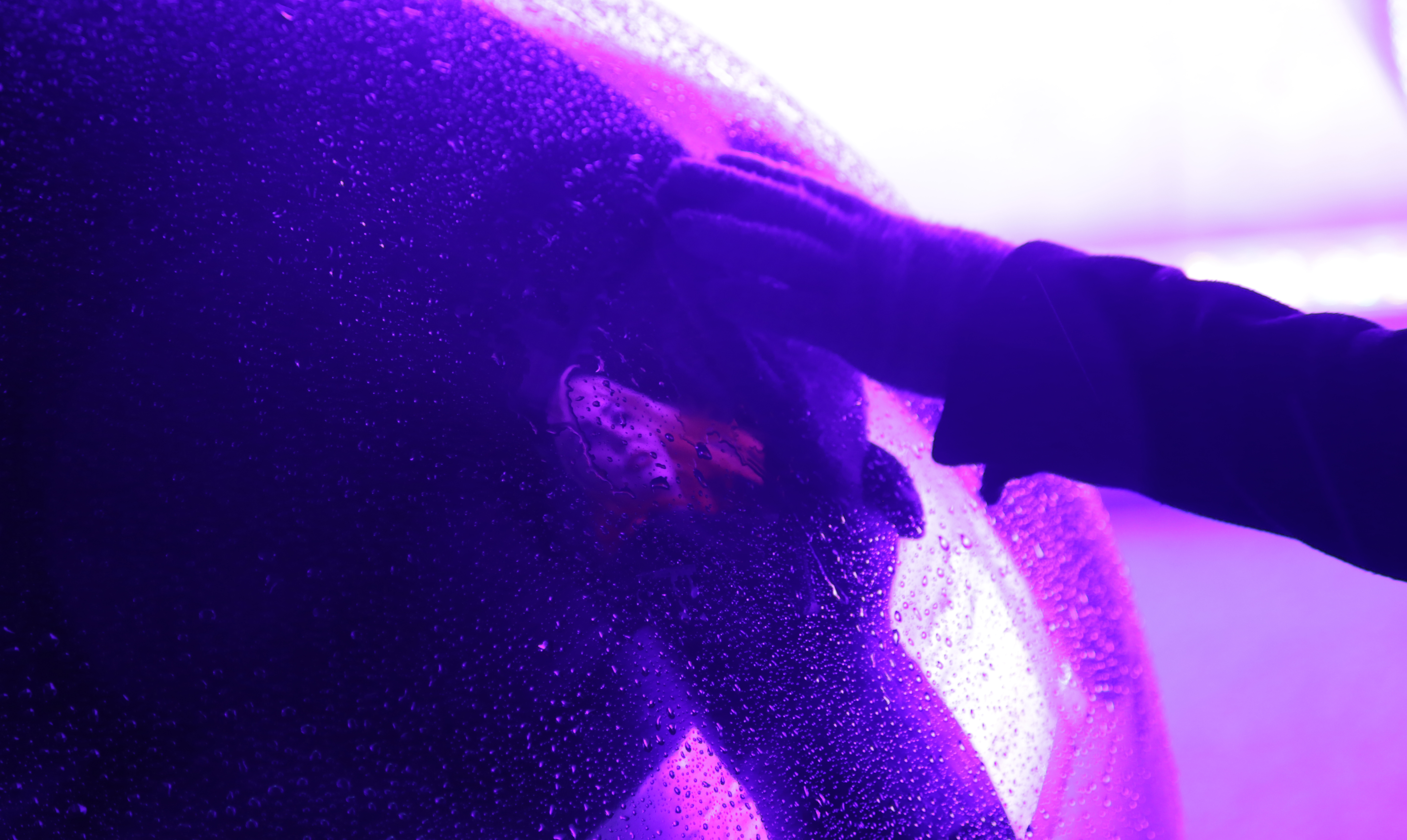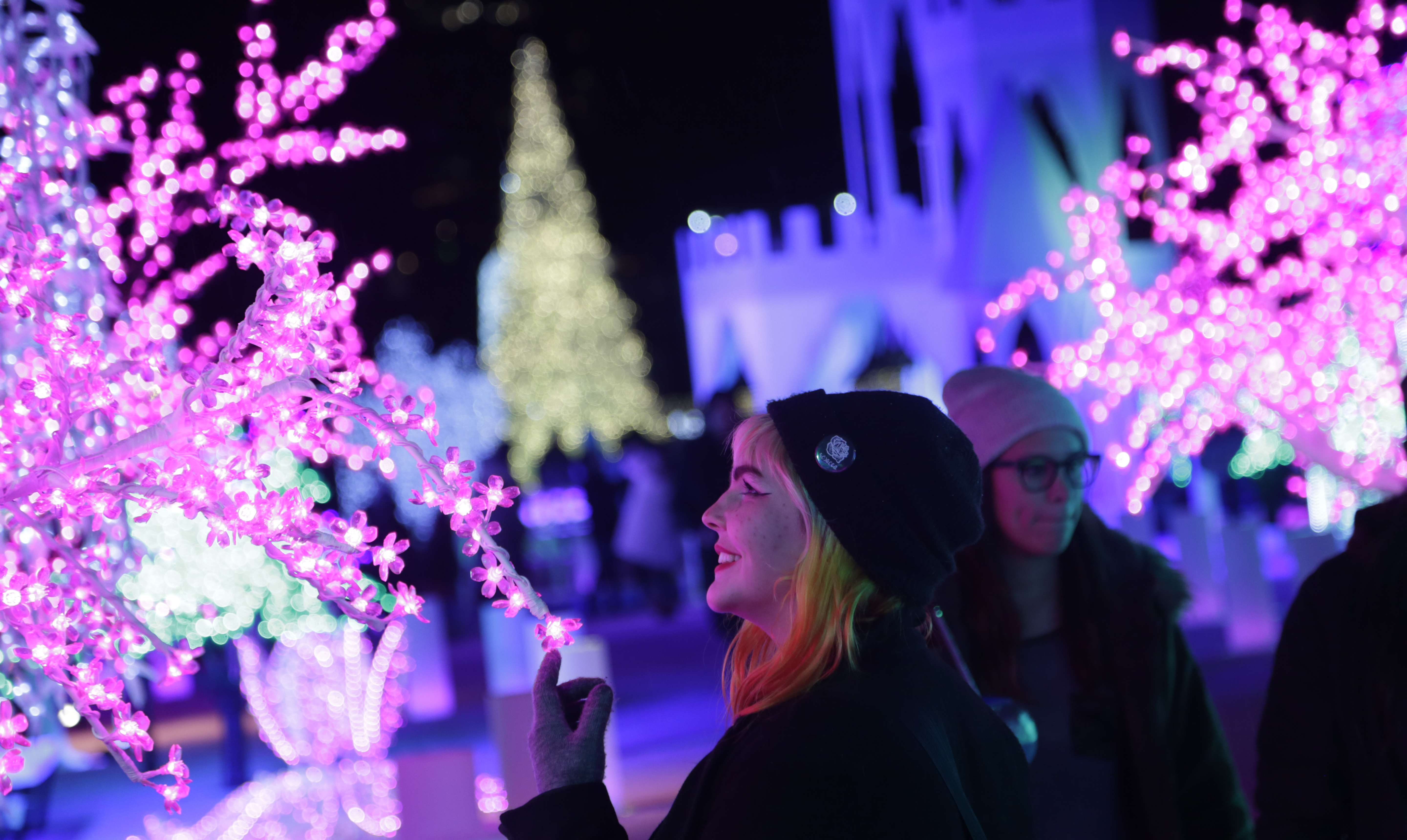 (admiring the lights in the Mystical Worlds)

We next wandered into the Mystical Worlds, a set up of different Christmas lights and art displays. This is always my favorite part of the holidays – it brings me back to the one time a year I would get to go see the Calgary Zoolights as a kid. We spent the most time in the maze of lights, which was decidedly instagrammable. In the Mystical Worlds setup, we were invited to play a scavenger hunt on the Aurora Festival's app. At the end of the hunt, we were given a prize (I won't divulge the type of prize here, you'll have to go scavenge yourself!).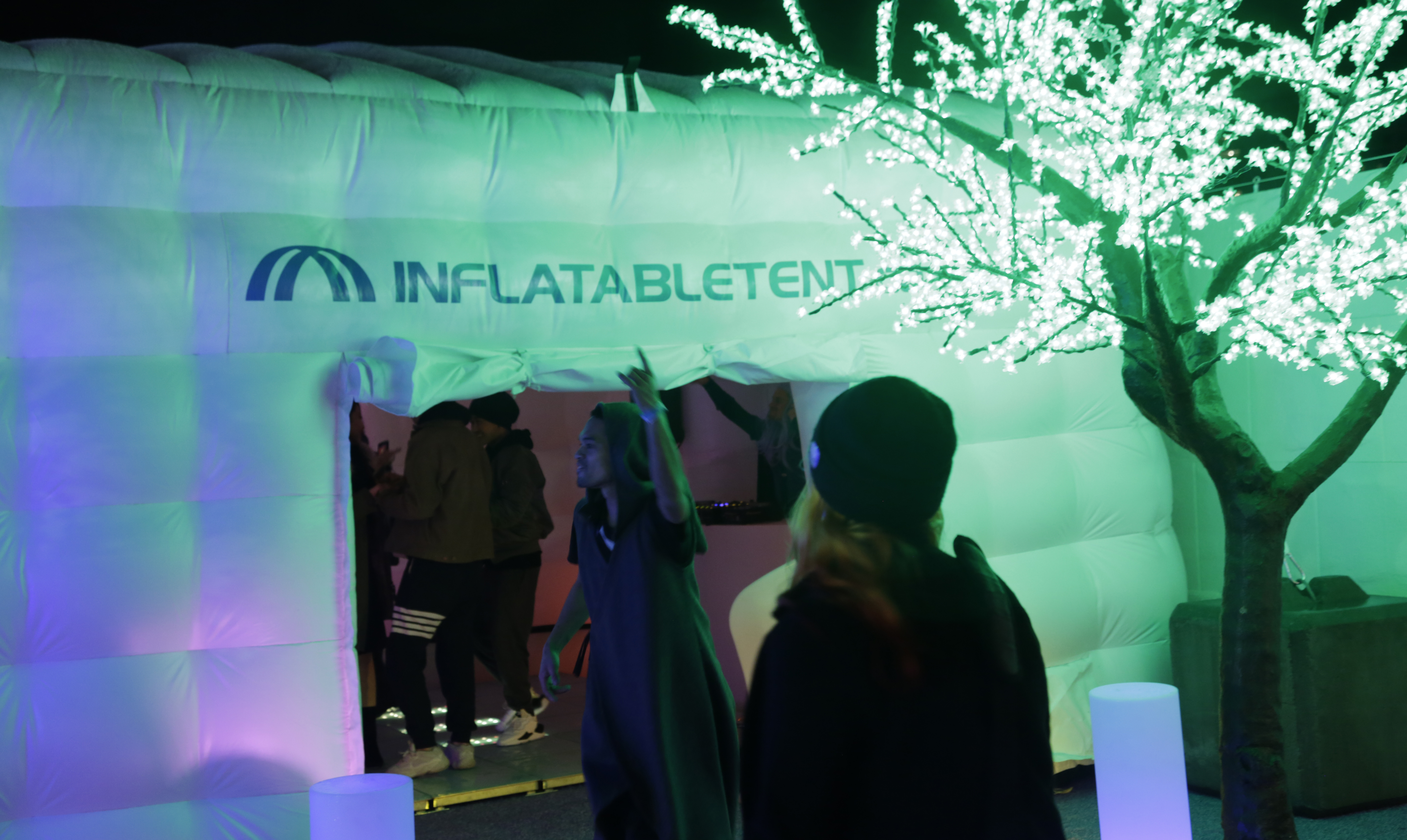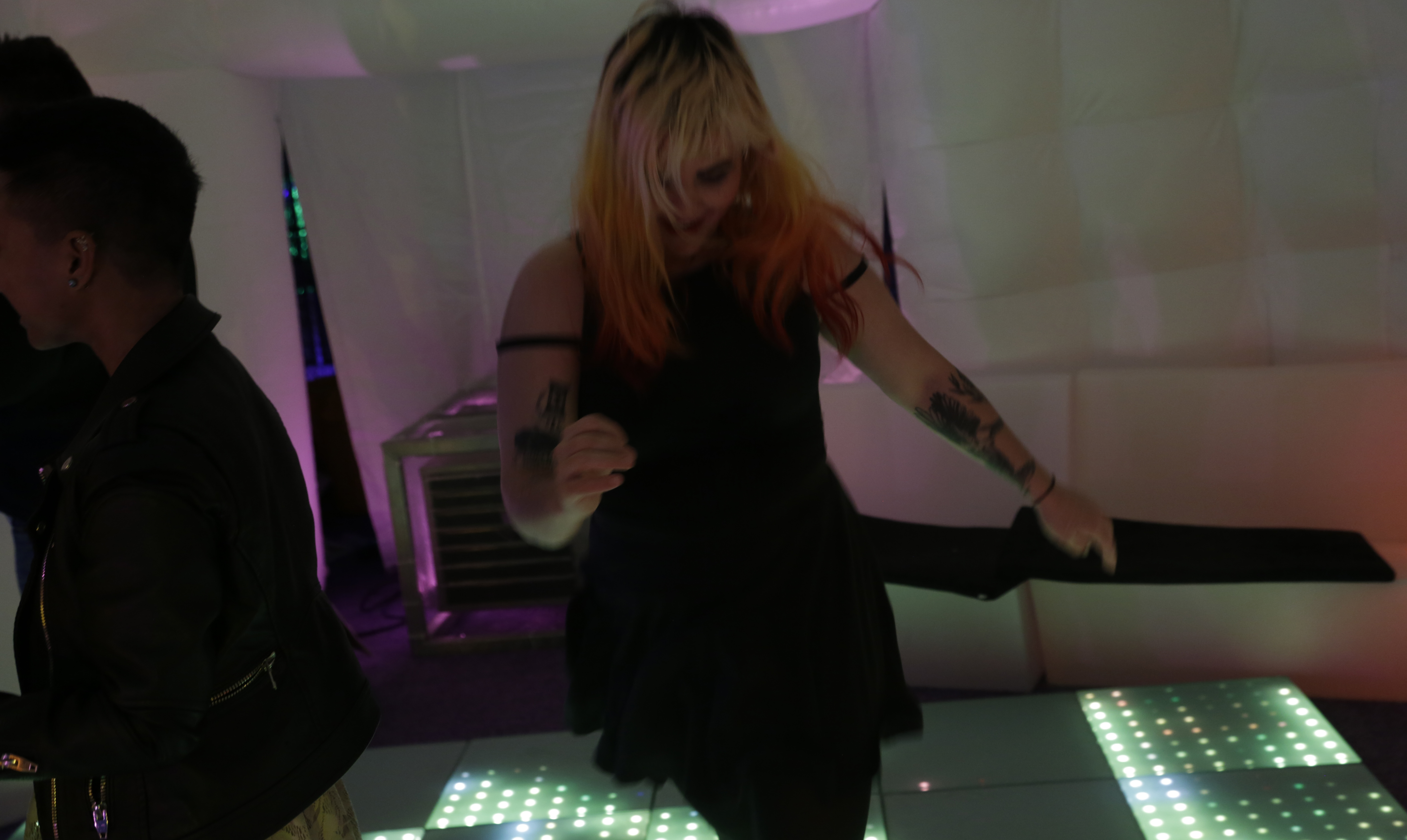 (busting a move at the dance party tent)

While walking through the lights, we came across an inflatable tent. We were beckoned in by the "elves" working there, and once inside saw a DJ spinning tunes and a light-up dance floor. Ever the dance-nut, I took advantage of the warm tent.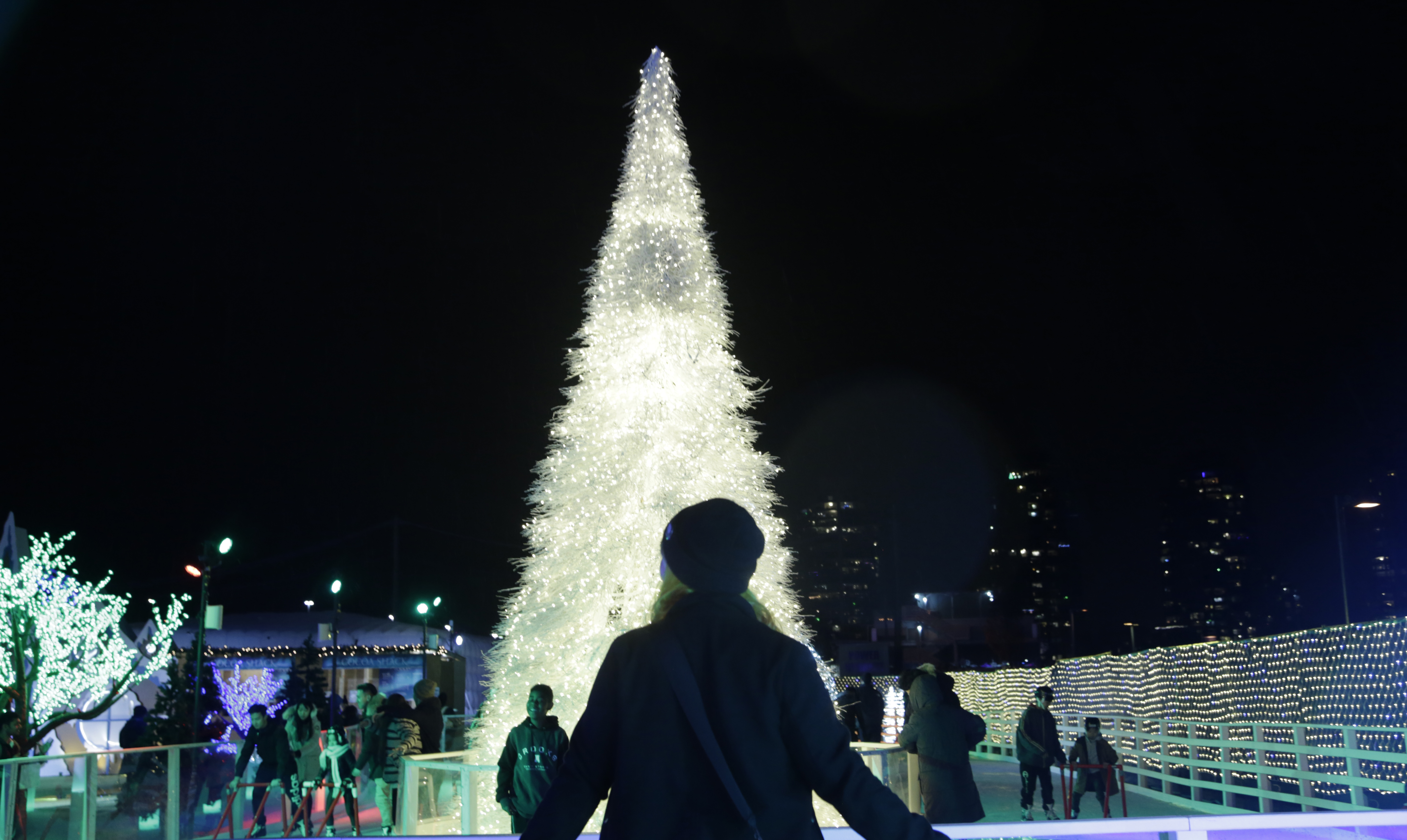 Afterward, we headed to the Frozen Lake, a small skating rink decorated with trees and lights. Neither Matt or I are great skaters, so we decided to leave our fancy camera on the side to ensure no accidental slips and damage would occur. Matt did get a chance to snap a few pictures of my skating prowess, though.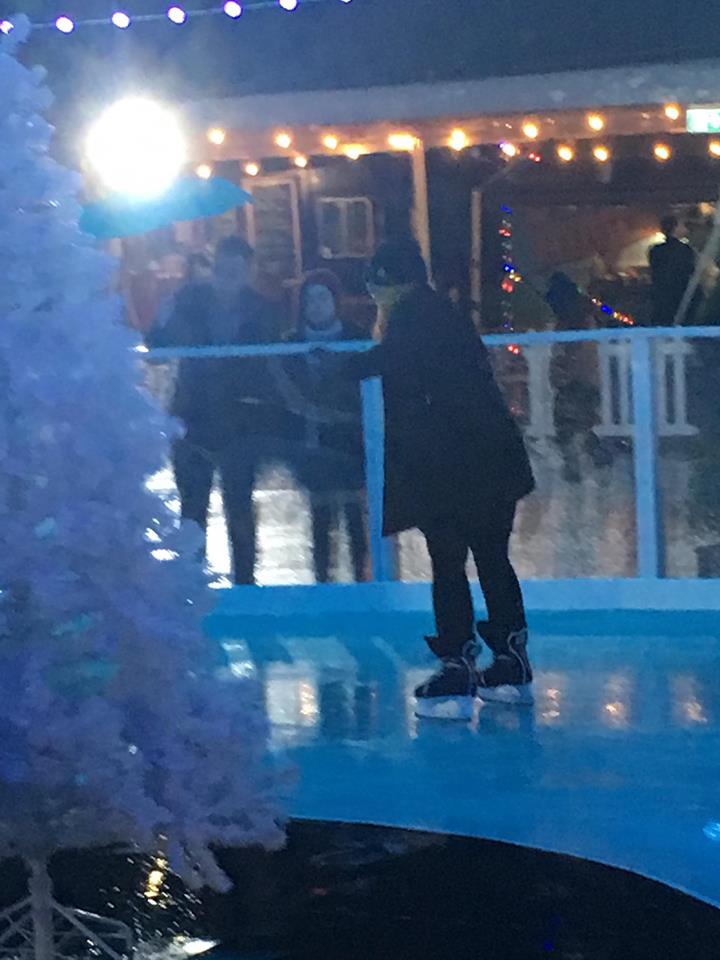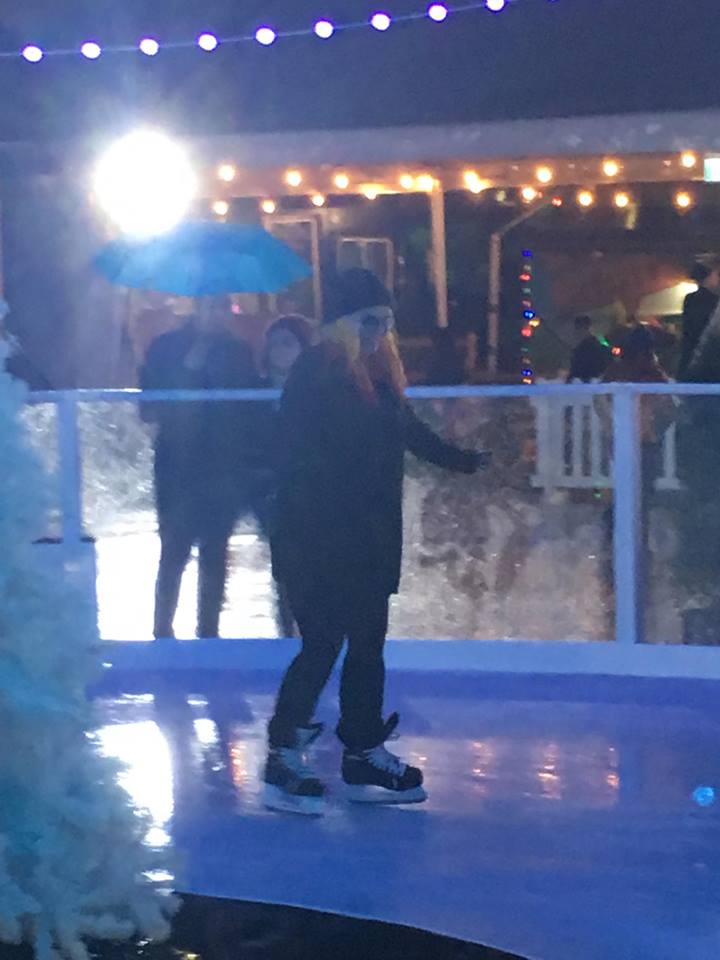 (candids of me trying to skate)

We peered into Santa's Workshop, but were sad to find out that we missed scheduling our visit with Santa by about an hour. Note to readers: Make sure you schedule your visit with Santa in advance. We instead headed over to the amusement rides. By far, my favorite was the Tube Ride – a slide over 30 feet long made like a tube water slide at a water park (without the water, of course).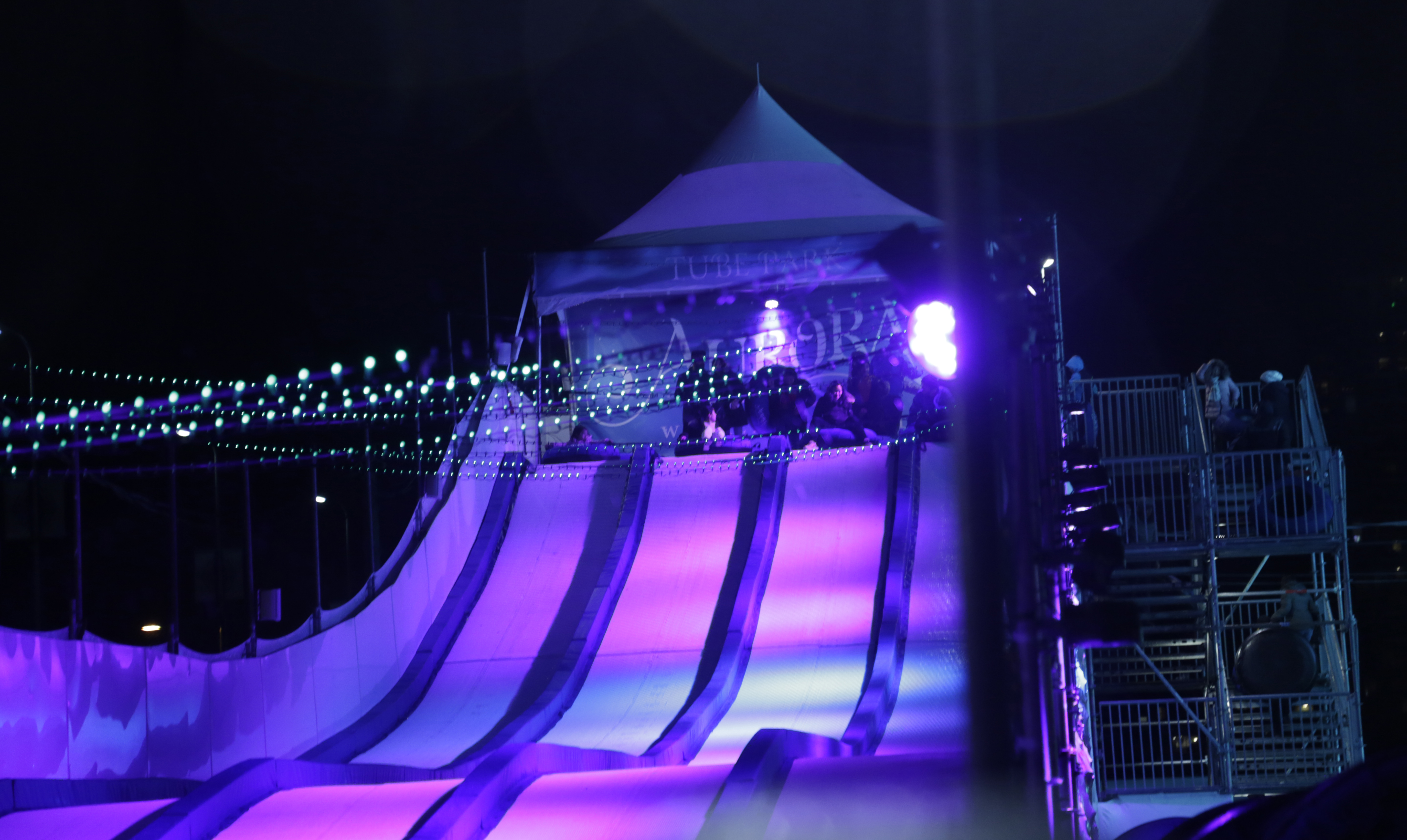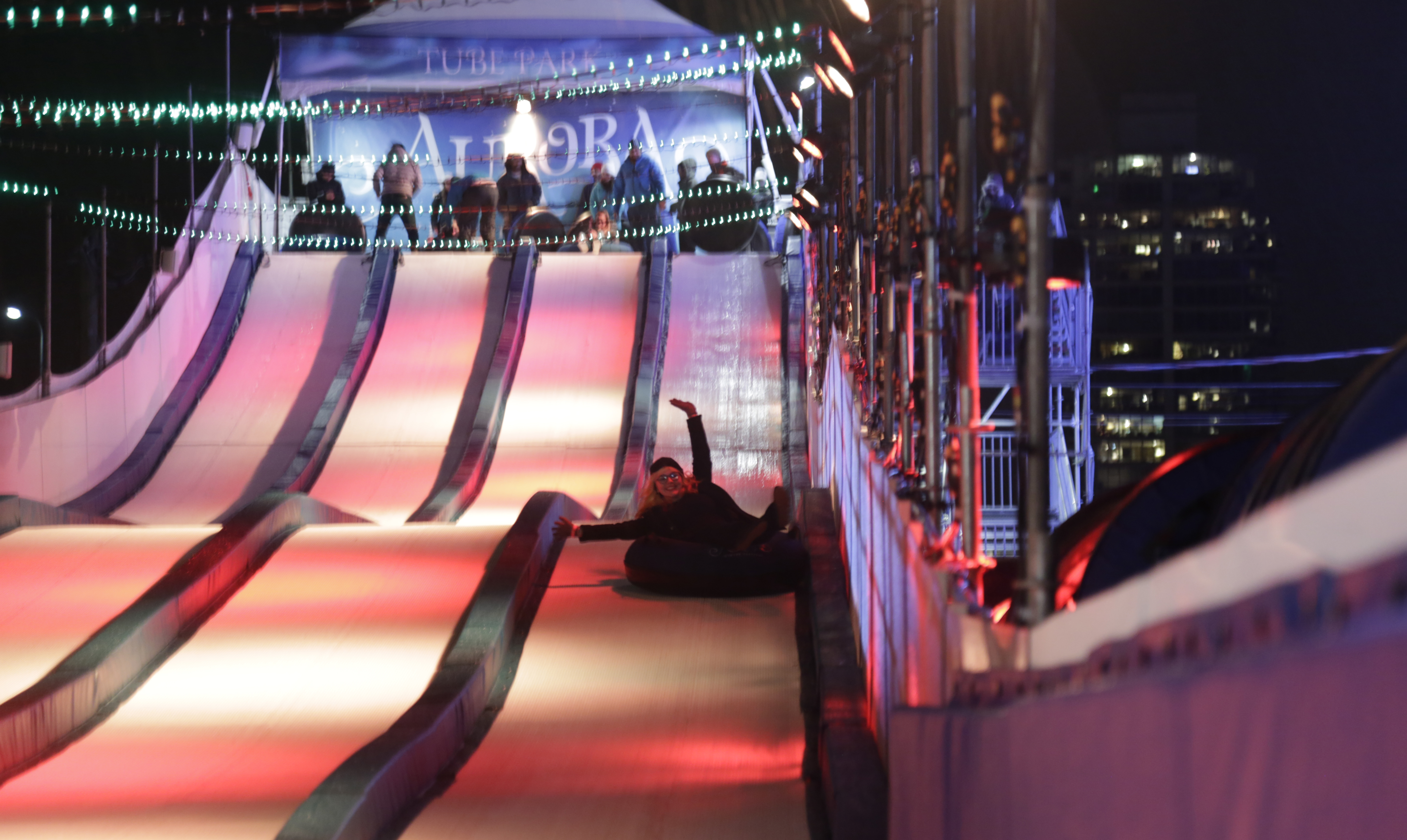 (I'm a bit of a clumsy rider, but I had fun!)

By that time, we had spent almost all of our night there, and the park was closing down. We chose our last attraction, the ferris wheel, and took in a beautiful view of the inner harbour while discussing how quickly a couple hours went by. Once the ride was over, we headed home to check off almost all of our holiday to-do's.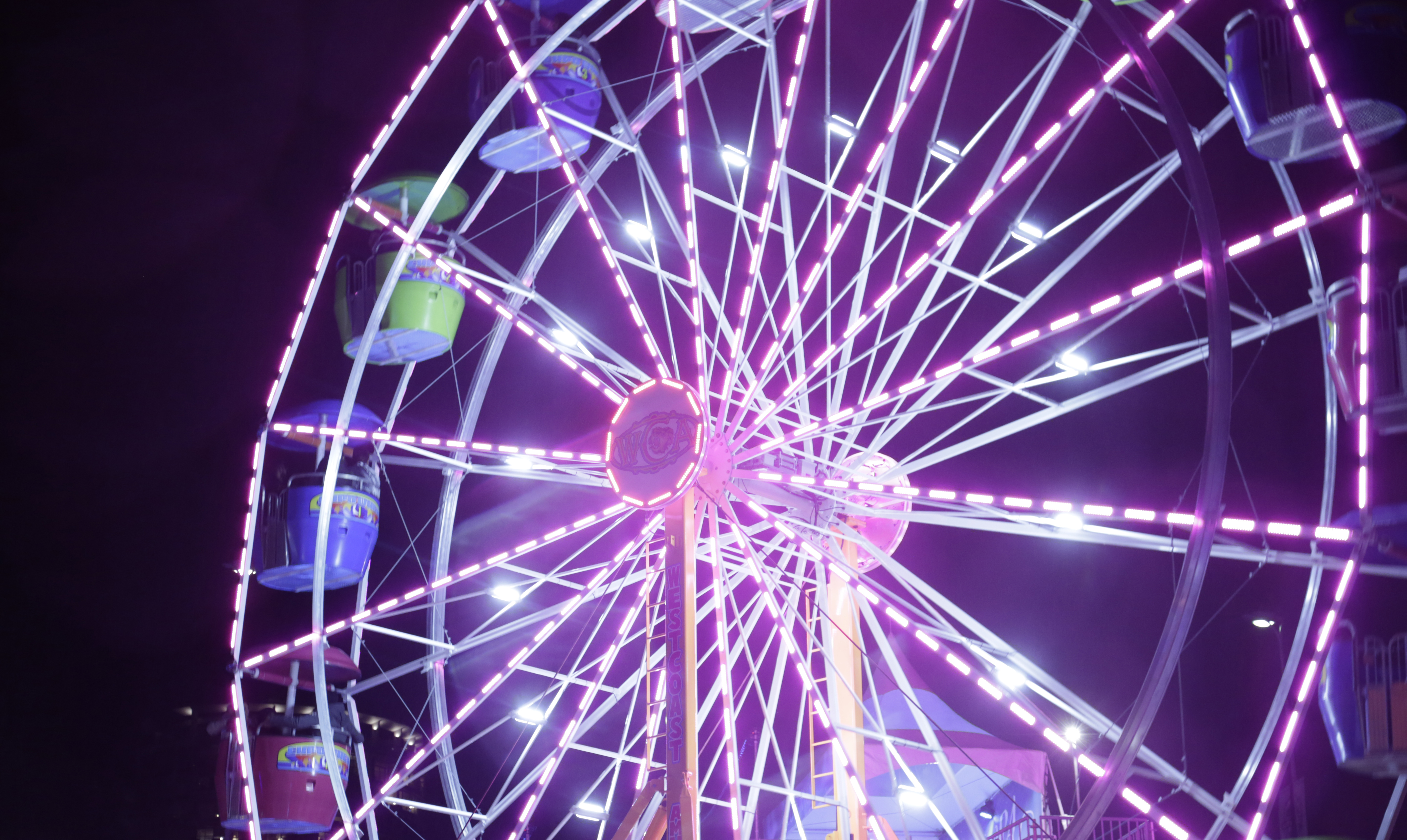 After going to the Aurora Winter Festival, I can gladly say that I got a little taste of everything I wanted to do this winter. The Aurora does a really great job of taking all of the best things about this season and bringing them together to give you a night of magical fun. If you find yourself wanting to get the best of the Winter season but you don't have much time to do it, then the Aurora Winter Festival is for you. Just make sure to dress warmly, as the festival takes place mostly outside, and bring a little extra cash for the fun treasures you'll want to buy at the market. Bravo, Aurora Winter Festival, I'll see you next year!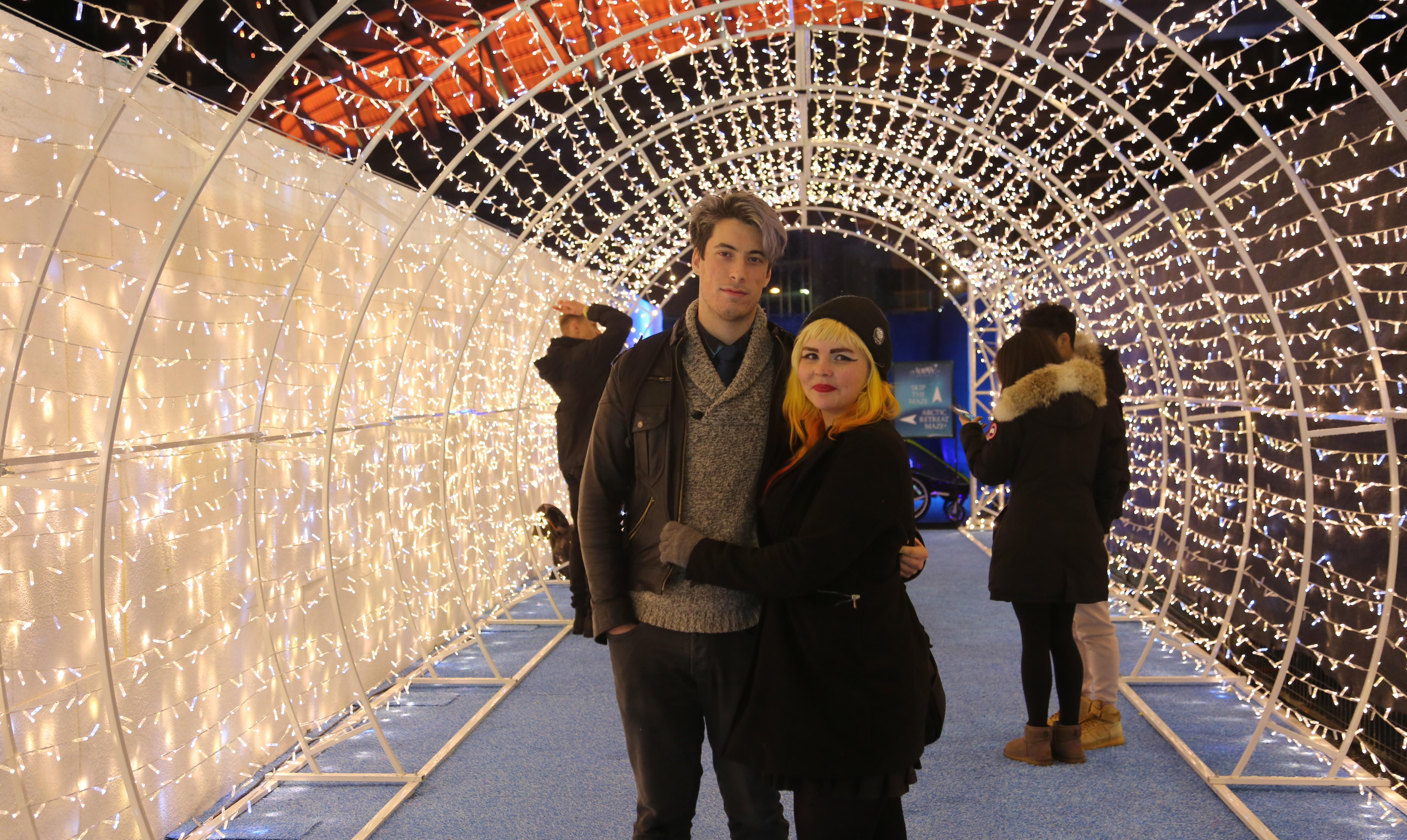 The Aurora Winter Festival takes place at Vancouver's Concord Pacific Place from November 23rd to December 30th. For more information, check out their website .