Nov 13 by Max Monday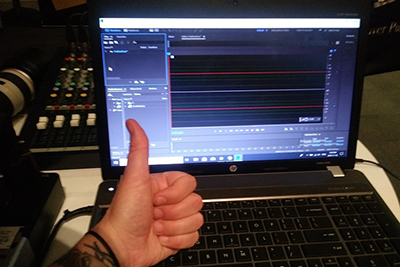 (All set up for recording at the Vancouver Public Library)
I have to be honest with you. I'm not a fan of true crime podcasting. Other than the hit true crime parody series, This Sounds Serious, I tend to shy away from the genre, listening instead to pop culture and storytelling podcasts, like Gimlet Media's Reply All, or Love & Radio from Radiotopia. So, when I heard that the theme of Vancouver's inaugural podcast festival would revolve around true crime stories and podcasts, I was a bit hesitant to partake. Still, I inquired about volunteering for the event, and the folks at DOXA, Vancouver's documentary film association (and the folks who put on the Vancouver Podcast Festival), ushered me in as part of the festival team. I can honestly say I am glad that we took a chance on each other, as I was surprised to learn that the festival reached far beyond strictly stories of true crime and true justice.
 I spent most of my time during the festival doing audio tech in the Montalbano Family Theatre, a newly-minted presentation room atop the Vancouver Public Libary's downtown location. The room was home to 13 of the festival's events, including panel dicsussions, live recordings, and a smackdown debate between video documentary and audio documentary (yes, it was as entertaining as it sounds). Although the theme of this year's Vancouver Podcast Festival was true crime, many of the featured podcasts were not specifically tied to the topic. There were, of course, many local and international true crime favorites (Corus's Dark Poutine, Rainstream Media's Somebody Somewhere, and a plethora of series from CBC Podcasts), whose hosts and producers shined in their on-theme conversations. Anyone who did not distinctly fit into the box of true crime, like Hannah McGregor's Secret Feminist Agenda, and the small-time hip-hop podcast, Rap Gods, found a way to incorporate true crime and justice into their presentations.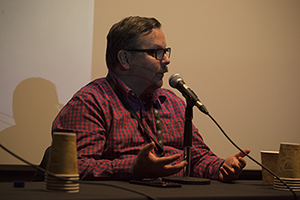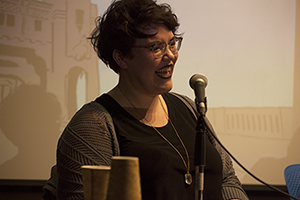 (From left to right: Mike Browne of Dark Poutine, Hannah McGregor of Secret Feminist Agenda)
 Headphone-clad and listening intently at my makeshift sound booth, I had the opportunity to watch on as each host, each conversation, revealed a different way of looking at true crime. Daniel Chai and Jeff Porter, hosts of The Fear of Science, explored the very human fear of getting caught doing something bad. UBC's Undergrad Film Students Association's podcast series invited criminologist Dr. Lisa Coldheart, who explained how hearing stories of true crime can comfort the listener. The aforementioned Rap Gods explored the criminal record of a handful of rappers while a devoted audience participated heavily. I can safely say that, although I am not a fan of all true crime stories, I was wholly entertained for the entirety of the three days I attended the festival. Along with that, I was taught that a thematic podcast can reach far past the confines of its topic to touch on points relevant to anyone, anywhere.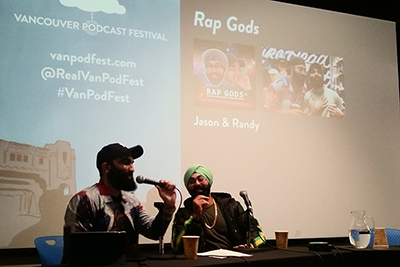 (Rap Gods live-recording at the Vancouver Public Library)
For me, the takeaway of this highly successful first go-around of the Vancouver Podcast Festival is that, yes, podcasting can be everything to everyone. This vast-and-growing medium is quickly becoming as infinite as music, and it can be hard to get a handle on what podcasting is for that reason. DOXA did a fantastic job at taking a digestable snapshot of the local podcasting landscape, and making it into a three-day celebration of storytelling and skillsharing with true justice at its roots. From what I saw at this year's festival, I am beyond excited to see what DOXA will do next year.